I must admit, I would love to say that I came up with all of the ideas I post about on this blog. Sadly, though I am pretty creative, I am forever looking online for inspiration for our tot school journey. Here I will list all the sites that I get my ideas from. I will try to post direct links to where I found the idea on that particular page.
I owe a HUGE thanks to every site I list here and the people behind them. They are the reason that my tot school home runs so smoothly. So Thank You to everyone site listed on this page!
________________________________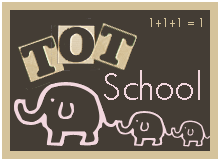 1+1+1=1 is what started me on all of this. This page is so easy to understand and Carisa really breaks it down for parents who are just starting out. Her blog is such an inspiration to me, and just makes me want to do my best for my kids. It is really worth the read!
Counting Coconuts s a new find of mine. I found this blog through 1+1+1=1 and have been reading it since. Mari-Ann, who is the woman behind the blog, also has a little girl M's age. So I like to read about what she does with her little coconut for a little inspiration with mine.
I found this when I was doing a little research on Discovery Bottles for my little tots. She has TONS of great ideas for all ages and stages. And very neatly listed, might I add. The Imagination Tree was great for Discovery Bottles, and I plan on using some of her great ideas for my boys here soon.